Secured Gas Company On Site / Reputable Developer Required Immediately
Unpriced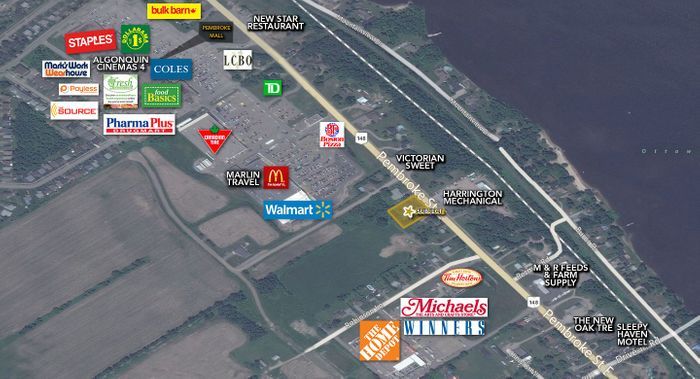 Listing Details
Subtype: Commercial, Apartment Building, Senior Living, Gas Station
Zoning: Hwy Commercial
Sale type: Ideal for both investors and owner-users
Lot Size: 1 Acres
Permitted uses:
Description
Prime Commercial Real Estate For Sale Excellent Opportunity To Open A Gas Station/ Automated Car Wash & Store. Seniors Multi-Story Apartment Complex. Endless Possibilities .Entrance and Exit Allowed ! Won't Last Long ! Make Your Offer Today ! Snapshot Of Pembroke Area Situated on the beautiful Ottawa River, Pembroke (population 24,000) is a vibrant city in the heart of the Ottawa Valley. Established in 1858 with routes in the limber industry, Pembroke has since be- come the administrative headquarters of Renfrew County and serves as the main commercial and retail service hub between Ottawa and North Bay. As a main commercial and retail service hub, Pembroke enjoys a diverse economy. In addition to the town's manufacturing plants and various healthcare facilities, many of the city's residents commute from Pembroke to the nearby Chalk River Nuclear Facility or CFB Petawawa. Pembroke also draws a large portion of its consumer base from smaller communities in the surrounding area; consumers from upwards of 30km from the city frequent the city for all of their retail and service needs. Tourism is another important economic driver in Pembroke. Throughout the busy tourist season (June through September), Renfrew County welcomes over 1 million visitors, many of whom are cottagers staying in the surrounding area. The subject property is located in the East End of Pembroke, with ample visibility along Pembroke St. E, one of the city's main arterial thoroughfares. Pembroke Street East, also known as Highway 148 or Old Highway 17, provides access to and from Highway 417. Located between The Home Depot and Wal-Mart shopping nodes, the subject property is in the Heart of Pembroke's Retail Corridor. Excellent Investor/ Developer opportunity to acquire land in Pembroke's primary retail and service node. The subject property is 1 acre and is situated along Pembroke Street East (Highway 148) High Traffic exposure approx. 25 to 30K per day. Zoning is Highway Commercial, most commercial uses allowed. Situated in Pembroke's primary retail and service node but in Laurentian Valley (Low taxes) Water, Gas & Sewage on site. Neighboring Retailers include TD Bank, Home Depot, Tim Horton's, Winners, Michael's, Atmosphere, Wal-Mart Superstore, Canadian Tire, Boston Pizza, Sports Check, LCBO, Food Basics, The Pembroke Mall. ( New Developments Starting Fall 2022 ( Starbucks, Several Senior Apartment Complexes , Medical Building ) Subject property is: · Designated Commercial · Zoned Highway Commercial . Water, Sewage, Gas, Onsite · Located outside the City of Pembroke in the Township of Laurentian Valley on Hwy 148 · Between two major commercial developments, one of which is partially within the City of Pembroke while the other is in the Township of Laurentian Valley. Fronting a major highway (148) where commercial development is encouraged The following are highlights of my discussion with the Township: Highway 148 is MTO controlled and MTO is very much involved in all development along this corridor. Their initial expectation is a 14 metre setback however the Township has advised there is an established building line along this stretch so that setback could potentially be reduced to 10 metres. MTO has detailed design drawings for reconstruction of various stretches of Highway 148 however it will not be going to 4 lanes, only to 3 lanes (centre turning lane) A cross-servicing agreement is in place with the City of Pembroke, extending services directly in front of these properties along Highway 148 as far as the Home Depot development. The Township is not aware of any servicing constraints currently, and there is no City involvement in servicing discussions but rather with the Township Public Works director and the outsourced Township Engineer. If considering development of the ~1.0 or ~1.5 acre parcels only, the Township definitely wants Highway Commercial uses. Multi-residential above ground floor commercial could be an option here, however would require a Zoning Bylaw Amendment (ZBA). There is not much multi-residential in this area, with the bulk being older converted duplexes. There is strong demand for housing in the area with an influx of seniors coming to the City for amenities / services, in addition to the recently expanded Algonquin College which now has more students with no student residences (increased competition for rentals). Pembroke in general is a hub for surrounding rural areas, with people migrating to the City. The Township does not have a formal consultation process. To formally preconsult we would send a summary email along with a concept plan to the Township who would set up the meeting (inclusive of the MTO). In summary: No issue with Commercial uses along Highway 148 and the site is already zoned as such. Residential above ground floor commercial, or standalone on the larger parcel beyond the immediate Highway 148 Corridor, seems to be a viable option.
Ask a question
Curious about any of the details? Ask the listing owner a question and get a quick answer.
Location & nearby
This listing is located in Pembroke, ON K8A 7R5
1116 Pembroke Street East, Pembroke, ON, Canada
---
Looking for the right land listing for you?
Zonado is Canada's fastest growing commercial real estate and sale of business marketplace. Our goal is to help you buy, sell and lease better than ever before.
Need help?

Zonado combines a diverse portfolio of commercial real estate listings with an obsessive focus on technology. It enables stakeholders to buy, sell and lease better than ever before.
Need help?

The REALTOR® trademark is controlled by The Canadian Real Estate Association (CREA) and identifies real estate professionals who are members of CREA. The trademarks MLS®, Multiple Listing Service® and the associated logos identify professional services rendered by REALTOR® members of CREA to effect the purchase, sale and lease of real estate as part of a cooperative selling system.