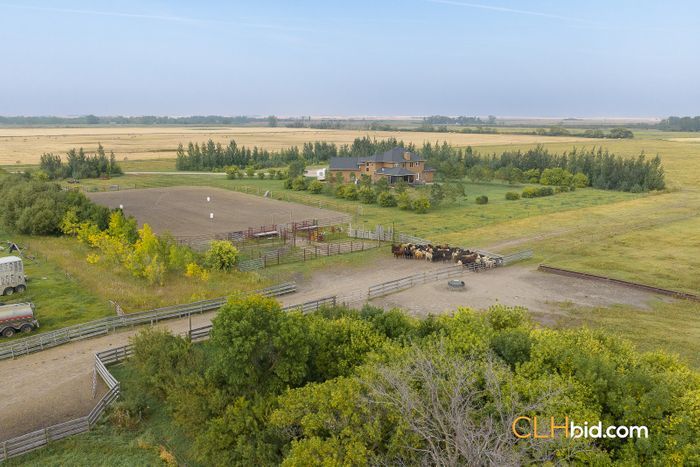 Listing Details
Subtype: Agricultural, Farm, Ranch
Sale type: Ideal for both investors and owner-users
Lot Size: 3,800 Acres
Permitted uses:
Agricultural
Pasture/Ranch
Description
Tyvan 24 Pack- 3800 Acres For Sale- Tyvan, SK Selling Online Thursday, Dec 1, 2022 at 9:00am MST The Price listed is the Starting Bid for Parcel 1. See Website for Starting Bids for each Parcel: https://www.clhbid.com/auctions/Tyvan24Pack When you think of a 24-variety pack, one immediately appreciates the benefit of choice. Whether you are a farmer, rancher, or looking for a new base for your commercial business, this property affords that perfect prospect. With the option for a dream estate acreage, complete with a 4,500 square foot western style home, as well as the ability to expand on the land base with additional lease land for additional growth, look no further than this incredible opportunity. You may want to contact your banker or agronomist while you ponder the endless options available with this rare find. PARCELS 1 through 5 are all 320-acre half-sections. Parcels 1 through 4 are all contiguous and combined, making up over 1,280 acres; set your GPS on the seed drill tractor in the Spring and farm this land with your choice of crop for the 2023 season. Parcel 5 also consists of 320 acres and is only located 1 mile south of Parcel 4, so when the warm meals come to the field to feed the crews, everyone can sit down and break bread together. All five of these Parcels will be sprayed out this Fall, so they will be ready for the next farmer to have a turnkey addition to their farmland expansion. These five Parcels of 'Tyvan 24 Pack' all have perimeter fencing in place and possess dugouts on Parcels 1, 3, 4 and 5. By utilizing CLHbid's unique 'En Bloc' system, bidders will have an opportunity to keep the fertile, prime farmland that makes up Parcels 1 - 5 together. Utilizing the 'En Bloc' route assures a bidder going to the 'En Bloc' round that they will either get all five Parcels or none. Purchasing all five Parcels 'En Bloc' alleviates the risk of owning a half section twenty miles from your home base. These are highly fertile acres that are deep in organic matter and ready to go to work for any grain farmer wishing to turn them into cropland, given today's commodity prices. PARCELS 6 and 7 are both 320-acre half-sections. Parcel 6 is prime farmland in Barley for the 2022 season. Look to the south and take note of the 7-foot-high corn crop that will give potential yields of up to 16 tons per acre and appreciate the option for the mixed farmer to move the cows to graze stubble once the crop is off. Parcel 7 is currently in tame hay, but it has already been Fall-sprayed in 2022 and is ready for the seed drill for Spring, 2023. Both parcels have a perimeter fence and dugout for watering stock and give the new owner options for how they would like to utilize these land parcels in their operation. The dugout on Parcel 7 has a seep well to use the dugout during the cold winter months. Did I mention this property has a variety of options and opportunities? PARCEL 8 is a 10.5-acre acreage with a beautifully landscaped yard and a 4,500 square foot custom stick built western style home with a fireplace and attached two-car garage. This dream acreage also comes with a 120' x 250' all pipe riding arena that can be used to teach the next generation horsemanship. The Starting Price on this Parcel is set at a fraction of the replacement cost. PARCEL 9 already has the infrastructure in place for a multi-purpose business, whether in commercial or agricultural industry. In addition, there is a 1,250 square foot older home that has been well maintained and would be perfect for that hired hand or for additional family members who help to run the operation. The water on Parcel 9 is practically endless. With water wells that are only 30 feet deep and boast an output of 100 GPM, build your commercial business or agricultural venture with the multi-purpose buildings already in place. That is not all: Parcel 9 also boasts a 30'x 40' heated shop, 40' x 80' Quonset shop on cement footings that is wired with 120v power, a 30' x 60' Quonset shop with a cement floor with 220 power, a 40' x 60' barn that is insulated and has water, septic, floor drains, a heated bathroom, a lunchroom and a medical room, a tack room, tie stalls, four roll up doors/slide doors and one 60'x40' pole shed. If the new owner is interested, optional extras could include a Nordic 20' x 8' livestock scale with digital display and printout, portable panels, windbreaks and feed bunks, three hopper bottom grain bins, and a roller mill – all of which can be negotiated with the sale. PARCEL 10 is comprised of 160 acres and is located directly east of Parcel 9. The sky is the limit regarding what crop the next owner chooses to seed on this prime farmland; it can be seeded from corner to corner without wasting a single acre. Over the years, this first-class quarter has delivered many bumper crops for the current owner. Parcel 10 has a Powerhouse Water Well that will provide 100GPM all year round. PARCEL 11 is located directly south of Parcel 9 and has perimeter fencing to keep the stock close to the main yard. This parcel is one of the few quarters in the area that is still in native grass and is abundant with wildlife. It even possesses the possibility of a conservation easement. If even more room is necessary for the new owner's plans for this land base, look no further than PARCELS 12 and 13. These Parcels are strategically located close to Parcel 9 and the main yard on Parcel 8. Parcel 12 comprises over 320 acres, while Parcel 13 includes 160 acres. Parcels 12 and 13 are fully fenced, and there is a dugout on Parcel 12. These parcels are currently in tame hay but with minimal costs could be converted back into cultivated acres. PARCELS 14 and 15 both possess highway frontage, are equipped with good barbed-wire fencing and are currently in a mix of cultivated land that is seeded to barley, tame hay, and native pasture. Parcel 15 has a one-of-a-kind water well that produces 100GPM. This grouping of PARCELS 9 - 15 will also be offered for sale 'En Bloc.' As with PARCELS 1- 5, utilizing the 'En Bloc' option to purchase affords a single buyer the opportunity to keep Parcels 9 - 15 together. This option affords the new owner the opportunity to own a total of approximately 900 cultivated acres in addition to the prime grazing acres these parcels have to offer. PARCELS 16 and 17 are located across Highway 33 from Parcel 15. These parcels are both fenced. The Wascana Creek meanders across the northern portion of Parcel 16, and there is a dugout in the NE corner, while Parcel 17 has a dugout in the SW corner. Both parcels have access to the Wascana creek, and the tame hay could be sprayed out and turned back into cultivated acres. As with most 24 Packs, these Parcels offer a surprise bonus: Parcels 16 & 17 both have gravel on them; perfect for keeping that world-class, dream acreage looking sharp or to keep the main yard in first class style. With 24 quarters being offered for sale in 17 Parcels and two opportunities to purchase larger Parcels En Bloc, 'Tyvan 24 Pack' is the perfect property that will accommodate any new owner. On sale day, eligible high bidders will be given the option to lease another 2 Sections of cultivated and hay land. 'Tyvan 24 Pack' is being offered for sale via online electronic tender by CLHbid.com. Please check the website for updates from time to time.
Video
Ask a question
Curious about any of the details? Ask the listing owner a question and get a quick answer.
Location & nearby
This listing is located in Tyvan, SK S0G 4X0
Tyvan, SK, Canada
---
Looking for the right land listing for you?
Zonado is Canada's fastest growing commercial real estate and sale of business marketplace. Our goal is to help you buy, sell and lease better than ever before.
Need help?

Zonado combines a diverse portfolio of commercial real estate listings with an obsessive focus on technology. It enables stakeholders to buy, sell and lease better than ever before.
Need help?

The REALTOR® trademark is controlled by The Canadian Real Estate Association (CREA) and identifies real estate professionals who are members of CREA. The trademarks MLS®, Multiple Listing Service® and the associated logos identify professional services rendered by REALTOR® members of CREA to effect the purchase, sale and lease of real estate as part of a cooperative selling system.