This listing has been marked as Expired
Missed it? Don't miss the next one.
Hundreds of Canadian commercial and business listings are posted here each month - many not available anywhere else. Create a free alert to make sure you don't miss the next Agricultural listing in Indian Head.
Selling Online Sept 28, 2023 - 2,290 Acres - Indian Head, Sk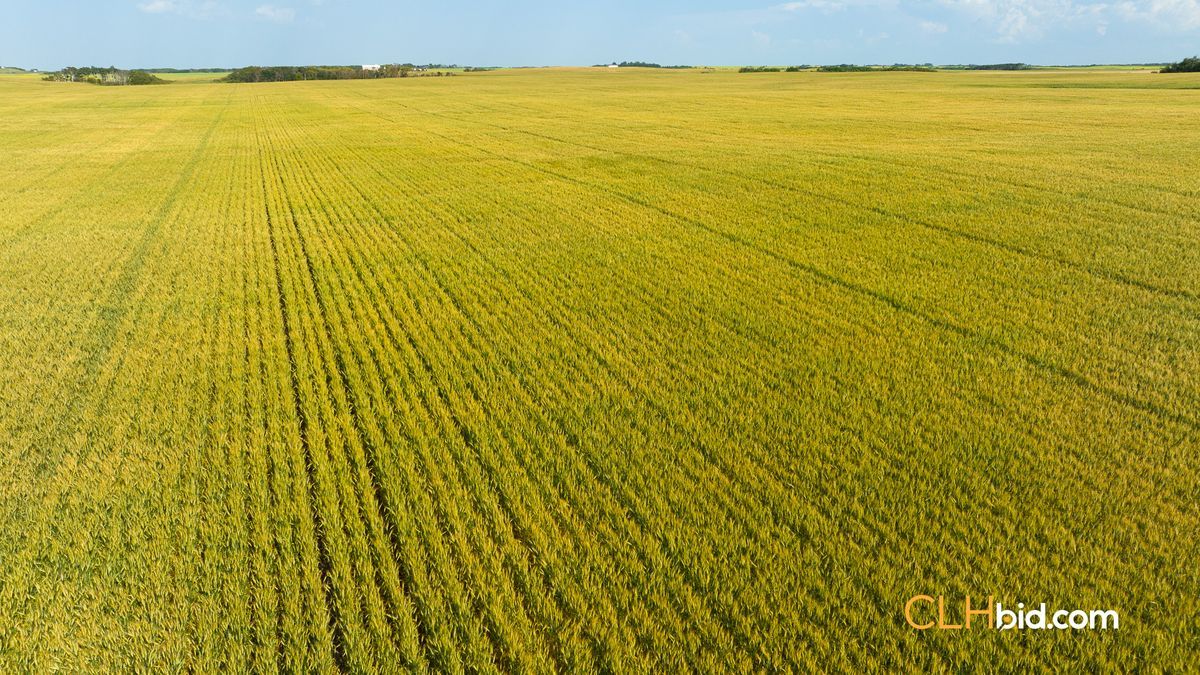 Listing Details
Co-op commission: Not co-operating
Subtype: Agricultural, Farm, Ranch
Sale type: Ideal for both investors and owner-users
Lot Size: 2,290 Acres
Permitted uses:
Description
First Class - 2,290 Acres For Sale - Indian Head, SK Selling Online Thursday, Sept 28, 2023 at 9:00am CST The Price listed is the Starting Bid for Parcel 1. See Website for Starting Bids. https://www.clhbid.com/auctions/firstclass/ 'First Class' is a premium assemblage of contiguous farmland in an agricultural region of Saskatchewan that is known to produce. This spectacular farm is situated in the northern half of the Regina Plain, a prolific area at the top of Springbrook Creek, and as the locals know, this is an incredibly desirable area to farm. With a total of 2,290 acres, and more than 1,900 arable acres, 'First Class' offers 90,000 bushels of grain storage. The northern boundary abuts the Trans-Canada Highway, and Highway 35 provides pavement access along the western perimeter of the farm. The major railroad and Grain Elevator at Indian Head, Saskatchewan, provides easy access to markets. Parcel 2 offers 90,000 bushels of grain storage, and with the Trans-Canada Highway forming the northern perimeter of Parcel 2, road bans will be of minimal concern. From a logistical perspective, Parcel 2 is ideally set-up to benefit from today's modern farming practices. As most producers would agree, the days of setting up major grain handling facilities and equipment storage buildings in the same yard as the owner's family home are a thing of the past. As mentioned, Parcel 2 boasts 90,000 bushels of hopper storage, 8 Twister 10,000-bushel hopper bins with 7.5 horsepower single phase aeration fans, providing quick access for the grain cart in the fall. Parcel 2 also boasts recent upgrades to the electrical service, and a yard large enough for today's equipment to move and store commodities safely. As 100-foot air drills with 1,300-bushel tanks become the norm, room for the equipment and year-round access with a Super-B is a must. The firm, graveled yard is turn-key and provides a distinct advantage for the new owners. With the price tag on a new combine measuring close to one million dollars, it is prudent to have machine sheds that can handle today's sizable equipment; the Goodon Industries 60 X 120-foot pole building, with a 50-foot bifold door in place, provides the perfect solution. Parcel 12 provides an exceptional option for those looking for a yard site with a home. The high bidder of Parcel 12 will receive the option to purchase the proposed 10-acre acreage, complete with a 1.5 story home that was built in 2021, for $360,000. With tasteful finishes and services in place, the acreage provides an excellent option to settle in and put down some roots. Ideally located on Highway 35, this Parcel offers pavement access from the driveway all the way to the Trans-Canada. Whether looking to add more acres to an existing operation or to get started with a turn-key assemblage, 'First Class' fits the bill. This block of land proffers the perfect opportunity for farmers looking to expand their existing operations but lacking the necessary room for expansion. For those in markets such as southern Ontario, where $20,000/acre may be hard to justify and possibly out of reach, take note of the quick 40-minute drive to the Regina Airport. With a proven track record of producing, managing this first-class farm from afar makes perfect sense. The area around Indian Head/Qu'Appelle is known for big agriculture and producing huge crops. It is clear why this region was one of the earliest areas settled in Saskatchewan. Paraphrasing for one of the locals, there has not been an early frost in this locale for over thirty years. You can never go wrong when purchasing good quality land, and opportunities like 'First Class' come along once in a lifetime. For those buyers worried about getting the entire block, please reach out to the CLHbid.com team to discuss the en bloc option. This 'First Class' signature farm will be the highlight of the Western Canadian fall market for 2023. Prospective buyers can review the Property Details attachment on CLHbid.com for the breakdown of arable acres per parcel, as well as the last three years of crop history. 'First Class' is being offered for sale via online escalating tender by CLHbid.com. Please check the website for updates from time to time.
Video
Location & nearby
This listing is located in Indian Head, SK S0G 2K0
Indian Head, SK, Canada
---
Looking for the right land listing for you?
Zonado is Canada's fastest growing commercial real estate and sale of business marketplace. Our goal is to help you buy, sell and lease better than ever before.
Need help?

Zonado combines a diverse portfolio of commercial real estate listings with an obsessive focus on technology. It enables stakeholders to buy, sell and lease better than ever before.
Need help?

The REALTOR® trademark is controlled by The Canadian Real Estate Association (CREA) and identifies real estate professionals who are members of CREA. The trademarks MLS®, Multiple Listing Service® and the associated logos identify professional services rendered by REALTOR® members of CREA to effect the purchase, sale and lease of real estate as part of a cooperative selling system.