Selling Online Sept 12, 2022 - Over 1000 Acres - Virden, Mb
$875,000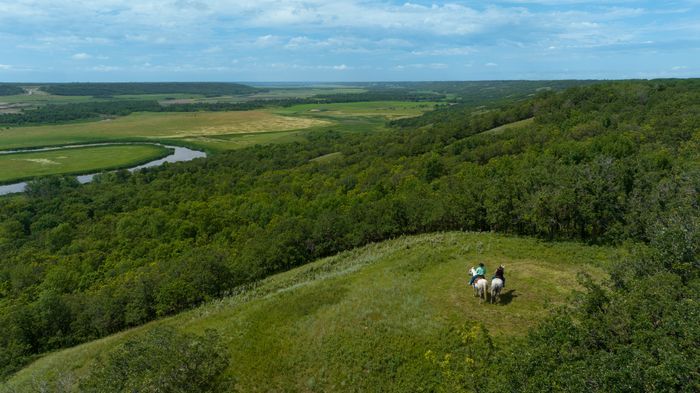 Listing Details
Subtype: Agricultural, Farm, Ranch
Sale type: For owner-users
Lot Size: 1,040 Acres
Description
Valley L at Virden- Over 1000 Acres For Sale- Virden, MB Selling Online Monday, Sept 12, 2022 at 9:00am MDT The Price listed is the Starting Bid for Parcel 1. See Website for Starting Bids for each Parcel: https://www.clhbid.com/auctions/ValleyLatVirden Welcome to 'Valley L at Virden.' This majestic ranch consists of over 1,000 contiguous acres of highly fertile soil and looks down over the breathtaking Assiniboine river valley in the heart of Manitoba's diverse landscape. The land base of 'Valley L at Virden' was assembled and then augmented yearly and is now set to swing open the gates and welcome its new owner after the sale day on September 12th, 2022. The connection between equine athlete and rider is paramount to success in the sport of Rodeo and this is especially evident in the precise teamwork necessary in the tie-down roping event. The gift of a superstar horse might only come along a few times in a lifetime, as those in the game can attest. The horse that backs in the box every time perfectly, scores like a champion regardless of the arena, runs hard, and works rope, is truly a work of art; one could say that every detail and every step matters. The Brown family followed similar details and steps over the years when it came to raising their horses and constructing their ranch. From world-renowned six-horse hitches to breeding superstar barrel racing and rope horses, no detail or step has been overlooked in the barn or out on the ranch itself. The Brown family have been pillars in the Virden community for generations, and 'Valley L at Virden' is the ranch many know and have come to love. The unmatched equine facilities and the open-door policy have contributed to decades worth of memories that family and friends have created. Now the Browns are ready for the next chapter in their lives. The benefactor of their decades of hard work and attention to detail will be the higher bidders on sale day. Who says dreams cannot be purchased? Much like finding elite horses that are available for purchase, it is rare for such an exclusive ranch to come on the market. 'Valley L at Virden' is the ranch that has stayed in the family for decades. A ranch such as 'Valley L at Virden' may sometimes be imitated but could never be duplicated. The key ingredients to any successful ranch are water, fertile soil, ample rainfall and excellent management. 'Valley L at Virden' checks all these boxes and more. PARCEL 1 consists of a total of 480 acres and includes the ranch headquarters. The mature yard is set up perfectly for the equine or cattleman buyer. Boasting extensive infrastructure, a cattle producer may want to utilize the barn for those cold January calving nights or continue to use it as an equine training facility. There are indoor and outdoor riding arenas, a sizeable metal-clad pole building, and a country home ideal for raising a family. The yard is set up for year-round active use. There is plenty of water for livestock, and the pipe corrals with shelters are ready for the new owner to swing open the gates and utilize. This parcel is the perfect mixture of hay, with plenty of pasture, and stunning views over the river valley, not to mention the opportunity to increase the number of arable acres if one so chooses. PARCEL 2 is comprised of 560 acres that are currently in hay and pasture. Parcel 2 is a large, open, well-maintained assemblage ideal for a grain farmer looking to expand or a livestock farmer looking to continue ranching. The county road along the eastern boundary provides excellent access, and the fences are livestock ready. Parcel 2 includes access to river pasture and idyllic views typically only seen in the movies. Like the 120-plus world-renowned Brown's Percheron horses that called 'Valley L at Virden' home, the new owner can truly hook the tug to this ranch and feel content in knowing that it will take care of them - just like it has taken care of the Brown family. As everyone knows, there is a significant output of funds to build new, not to mention the investment of time. 'Valley L at Virden' is truly turn-key. Do the math on a quick cost analysis of the Starting Bids versus the extensive investment to replace the infrastructure, include the decades of hard work that created this masterpiece, and feel confident in purchasing 'Valley L at Virden' on sale day. Whether the new owners choose to move their ranch headquarters here with the existing infrastructure, set the air drill for more arable acres, rope a steer in the arena, or hitch the team and go down to the river, 'Valley L at Virden' is truly a once in a lifetime opportunity for prospective buyers. 'Valley L at Virden' is being offered for sale via online electronic tender by CLHbid.com. Please check the website for updates from time to time. Viewing of Property: The property may be viewed by interested registered bidders. Please contact us by email at info@clhbid.com for an appointment.
Video
Ask a question
Curious about any of the details? Ask the listing owner a question and get a quick answer.
Location & nearby
This listing is located in Virden, MB R0M 2C0
Virden, MB, Canada
---
Looking for the right land listing for you?
Zonado is Canada's fastest growing commercial real estate and sale of business marketplace. Our goal is to help you buy, sell and lease better than ever before.
Need help?

Zonado combines a diverse portfolio of commercial real estate listings with an obsessive focus on technology. It enables stakeholders to buy, sell and lease better than ever before.
Need help?

The REALTOR® trademark is controlled by The Canadian Real Estate Association (CREA) and identifies real estate professionals who are members of CREA. The trademarks MLS®, Multiple Listing Service® and the associated logos identify professional services rendered by REALTOR® members of CREA to effect the purchase, sale and lease of real estate as part of a cooperative selling system.