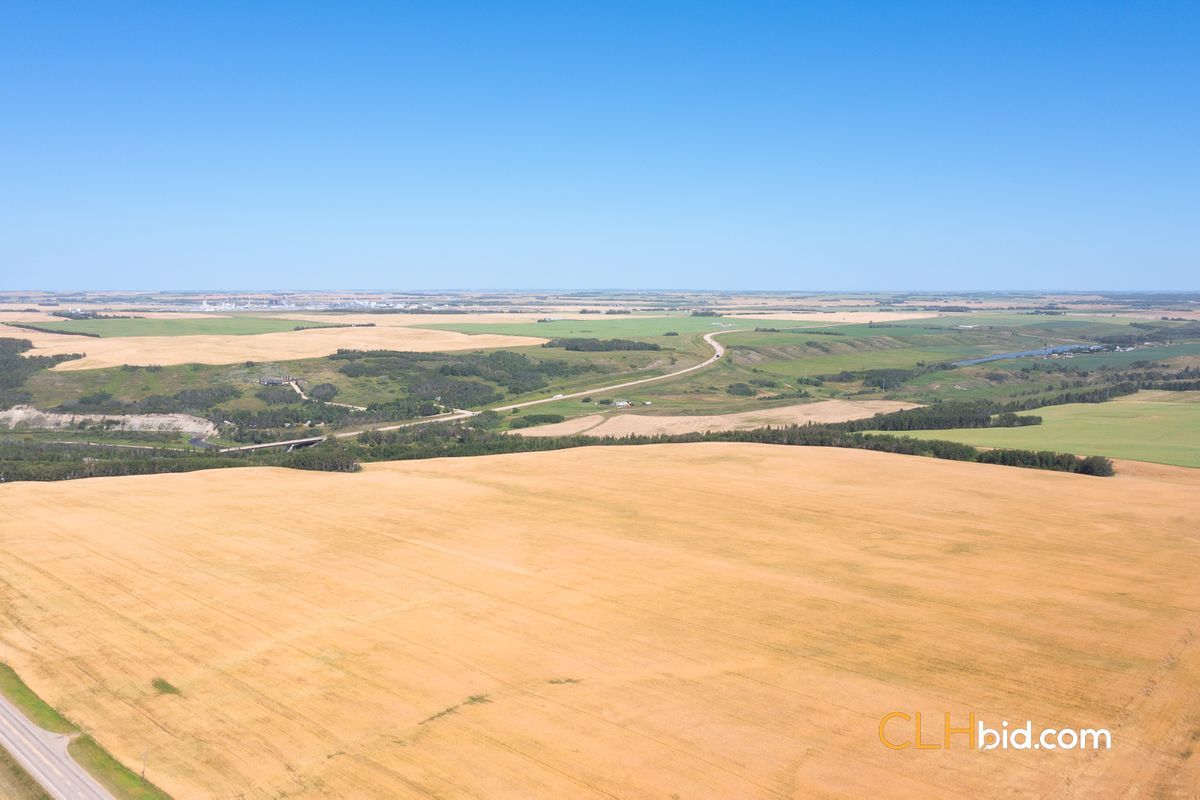 Listing Details
Subtype: Agricultural, Farm
Sale type: Ideal for both investors and owner-users
Lot Size: 156 Acres
Permitted uses:
Description
High Valley 808- 1Quarter For Sale- Red Deer, AB Selling Online Tuesday, September 27, 2022 at 9:00am MDT The Price listed is the Starting Bid. See Website for Details: https://www.clhbid.com/auctions/HighValley808 'High Valley 808' is the ultimate quarter section of agricultural land. Located high on a stunning upper plateau and looking down over the magnificent Red Deer River Valley below to the east, this is genuinely a quarter that reeks of privilege. With paved Highway 808 along its eastern boundary, Township Road 382A along its northern boundary and situated a mere half of a mile south of the major David Thompson Highway, you will find yourself ten minutes from everywhere: ten minutes from the high school, the hospital, shopping, or Westerner Park. Ten minutes away from anywhere and everything. This quarter offers the ultimate in country living, including spectacular 360-degree views from any deck off your dream estate residence. Not all quarters are the same or even close to the same. Sorry to brag, but yes, 'High Valley 808' does have it all. The Provincial Soil Classification Map lists one hundred fifty-six acres of prime #2 soil. It is said that good deals keep getting better and bad deals keep getting worse. Buy 'High Valley 808' and things are sure to keep improving year over year. The 2022 crop speaks to the agronomics of the land; well drained with a gentle slope, this quarter is ideal for crops that may be suspectable to low areas in a wet year, such as peas or canola. Crops are nothing without markets, so why not choose land next door to major markets and avoid the high transportation costs that come with today's high fuel prices? Red Deer County offers unlimited opportunities with numerous value-added agribusinesses and supply management agricultural base in close proximity. 'High Valley 808' offers all of this in an area known for some of the most consistent rainfall in Western Canada. 'High Valley 808' is not for you if you're looking for cheap land. However, if you are looking for an incredible long-term investment opportunity located in what is arguably the top 1 percentile of farmland in all Western Canada, then September 27th is your day to step up and take a full swing at the plate. The high bidder will feel the joy of hitting a home run for decades. "High Valley 808" is being offered for sale via online electronic tender by CLHbid.com. Please check the website for updates from time to time.
Video
Ask a question
Curious about any of the details? Ask the listing owner a question and get a quick answer.
Location & nearby
This listing is located in Red Deer, AB
Red Deer, AB, Canada
---
Looking for the right land listing for you?
Zonado is Canada's fastest growing commercial real estate and sale of business marketplace. Our goal is to help you buy, sell and lease better than ever before.
Need help?

Zonado combines a diverse portfolio of commercial real estate listings with an obsessive focus on technology. It enables stakeholders to buy, sell and lease better than ever before.
Need help?

The REALTOR® trademark is controlled by The Canadian Real Estate Association (CREA) and identifies real estate professionals who are members of CREA. The trademarks MLS®, Multiple Listing Service® and the associated logos identify professional services rendered by REALTOR® members of CREA to effect the purchase, sale and lease of real estate as part of a cooperative selling system.